What is the Inactive Asset Requisitioning System?
You are not allowed to block access in any way to a claimed construct in process of being unclaimed belonging to either a player or organization. Doing so may result in action taken on your account.
This would include any forms of blocking, such as what the community may refer to as "cubing"/"boxing" or otherwise covering the construct to obstruct others from accessing it.
If you notice your construct is blocked by another player's construct, and you are unable to board or access it:
You can open your Map menu, then right mouse button-click on the construct from your map view and click to Fetch. This will teleport the construct towards you, allowing you to reach and interact with it normally.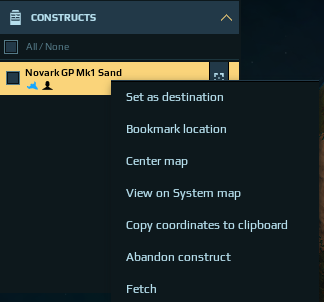 Make sure to include your construct name to speed up the investigation.