Organizations will now have a base construct capacity of 0. Each Novean will have 15 assignable organization construct slots, with an additional 10 available from talents and will need to remain an active subscriber to the game in order to keep the assigned slots to their respective organization in place.
Players can assign these slots to any organization of their choosing, whether or not they are a member of the organization. Noveans can reassign their slots from one organization to another, though this will cause the former organization to lose construct capacity.
An organization that loses capacity will either need to acquire new slots from players in order to support its infrastructure or reduce its number of constructs.
If the organization has more constructs than its allotted slots for two weeks, the organization will receive a warning.
If the organization does not either reduce its construct count to below its new allocated slots or increase its slot count two weeks after the warning, random constructs from that organization will become abandoned and lose ownership. At that point, any player or organization who has the necessary allotment of construct slots may claim it.
Further, to prevent players from trying to circumnavigate the system by reassigning construct slots back and forth every two weeks, there will be a minimum of 30 days before you can reassign the slots away from an organization.
The Slot UI:
A new interface on the organization home page (which you can open using F3 by default) has been made, allowing each Novean to assign construct slots to organizations of their choosing and to see how many slots they have assigned to which organizations.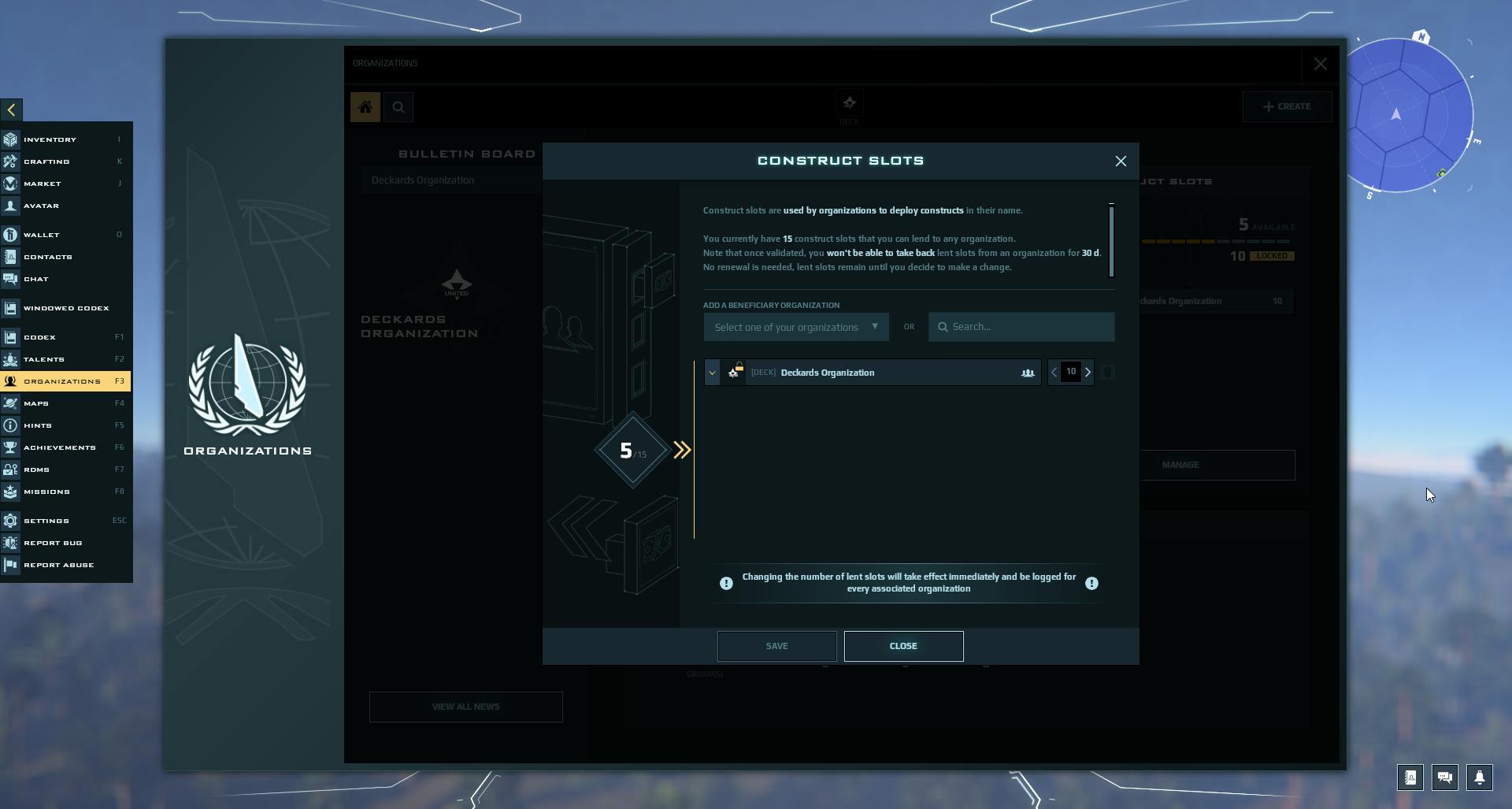 A new interface called 'Constructs' on each organization page, allowing each organization to have insight on how many slots they have available, who they received them from, when the next construct check is due, a log of slot gains and losses, and what their slot maximum capacity and talent maximum capacity are.